Hotel Ca' dei Conti is a 4 Star Hotel in Venice, ideally located a few steps from St. Mark's Square, the heart of Venice. Discover an elegant and romantic hotel nestled along an authentic venetian canal!
This historic house is located in a picturesque area of "the Serenissima", close to one of the oldest churches in Venice (Chiesa di Santa Maria Formosa), the Foundation Querini Stampalia and the famous Bridge of Sighs. Nearby, in the Castello district, the Riva degli Schiavoni is a pleasant walk, which extends along the San Marco basin, it is lined with loading docks to the islands of the lagoon (Murano, Burano and Torcello).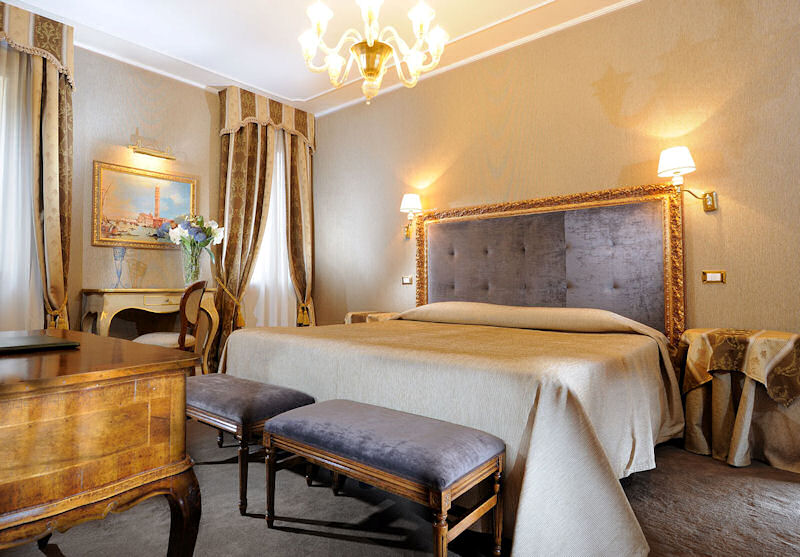 The rooms of the Hotel Ca dei Conti Venice are a reflection of 18th century Venice, luxurious and refined, decorated with Venetian style furniture with a dominance of colors blue, green and gold. They are equipped with all modern comfort such as telephone, minibar, satellite TV, radio, personal safe and individual air conditioning.
At Hotel Ca' dei Conti, the dedicated team takes great care in curating a delectable buffet each morning in the charming breakfast rooms. You'll find a delightful array of options, including croissants, cereals, fresh fruits and veggies, assorted cold cuts and cheeses, and that's not all – they also offer the indulgence of homemade cakes and cookies, as well as the option to savor freshly prepared pancakes and omelettes right on the spot!
For those with dietary preferences or restrictions, the team will be pleased to accommodate special requests, providing gluten-free and vegan products upon inquiry.
While at Ca' dei Conti, guests can enjoy the charming canal view terrace on the first floor, open until 10pm during the summer. It's an opportunity to experience Venetian relaxation, whether you prefer a hot drink or a cocktail outdoors. The attentive staff is ready to fulfill any beverage request, from coffee and juices to cocktails and spirits.
Additional information about Hotel Ca' dei Conti Venice
Address: Hotel Ca' dei Conti – Castello, 4429 – 30122 Venice, Italy
Phone: +39.041.2770500
Email: info@cadeiconti.com
Website: http://www.cadeiconti.com