The Fifteen Keys hotel is located in the heart of Rione Monti, a historic and picturesque area in the center of Rome (Italy). The main tourist attractions of the Italian capital are easily reached within walking distance such as the Colosseum, the Imperial Forum, the Trevi Fountain, the Spanish Steps, Piazza Navona and the Pantheon.
The Fifteen Keys is a small 4 Star Boutique Hotel with a contemporary chic and intimate style that opened in 2015 and features 15 charming rooms overlooking a courtyard or the rooftops of Rome.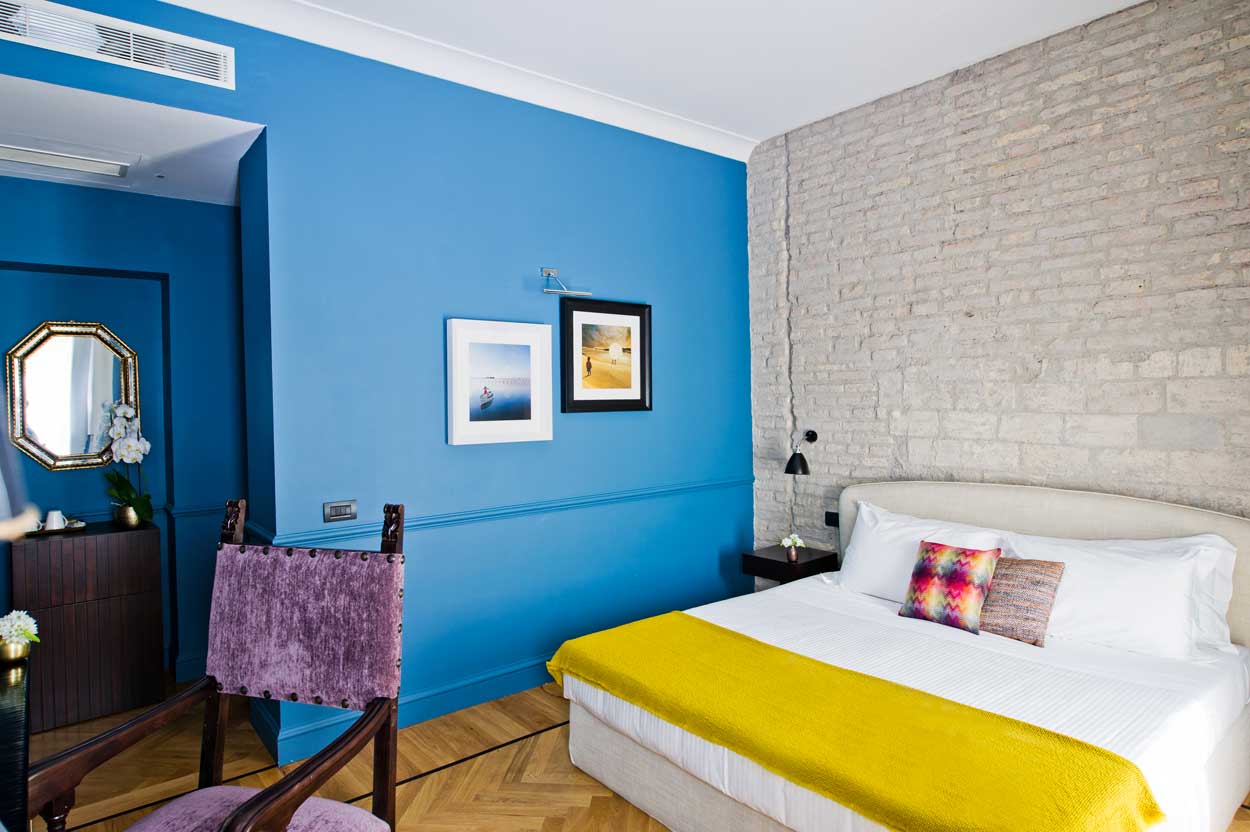 All the rooms have a refined decoration and the comfort of a superior hotel: desk, telephone, individual air conditioning, mini-bar, safe, USB plugs, electric kettle, hairdryer, Wifi connection and TV With satellite channels. Each room at the Fifteen Keys Hotel has an en suite bathroom with a bathtub, separate shower and a personalized bath set.
The breakfast room is filled with natural light and offers a buffet with organic products, including fruit, granola, yogurt, ham, cheese, and more. Breakfast is served from 7:30 am to 10:30 am (extended to 11 am on Sundays).
This Boutique Hotel in Rome offers an elegant bar as well as an inner courtyard where it is possible to relax with a cup of coffee or tea between two visits in the Eternal City.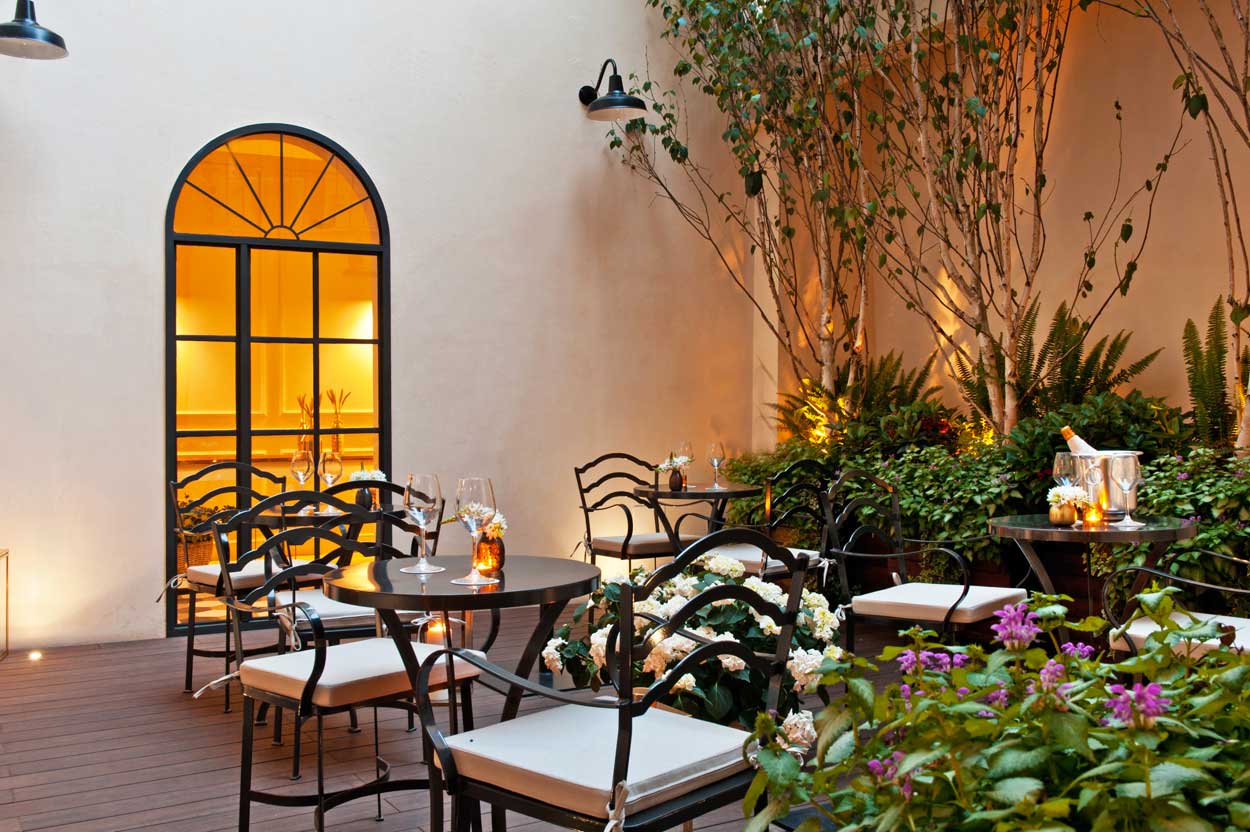 Located in the center of Rome, the district of Monti is immersed in a cosmopolitan and lively atmosphere, where you can relax and enjoy a café on the terrace, eating in a typical restaurant with traditional cuisine and strolling along with the shops Vintage, antiques and arts and crafts.
Explore the Exciting Attractions around The Fifteen Keys Hotel
Rione Monti is a charming neighborhood in Rome, Italy, and it's close to several main attractions. Some of the notable attractions and landmarks near The Fifteen Keys Hotel include:
Colosseum (Colosseo): This iconic Roman amphitheater is just a short walk from Rione Monti and is one of the most famous historical sites in the world.
Roman Forum (Foro Romano): The ancient Roman marketplace and civic center, which is adjacent to the Colosseum, is another must-visit site.
Palatine Hill (Palatino): Located nearby, this historic hill is one of the Seven Hills of Rome and offers fantastic views of the city.
Santa Maria Maggiore Basilica: This stunning basilica is one of the major papal basilicas in Rome and features impressive architecture and beautiful artwork.
Trajan's Market (Mercati di Traiano): An ancient complex of buildings that once housed a market, it now hosts the Museum of the Imperial Fora, providing insight into ancient Rome.
Piazza Venezia: A prominent square featuring the Altare della Patria (Altar of the Fatherland), a monumental building dedicated to Italy's first king.
Capitoline Hill (Campidoglio): This hill houses the Capitoline Museums, which display a rich collection of art and artifacts.
Quirinal Palace (Palazzo del Quirinale): The official residence of the President of the Italian Republic, it is an impressive building with beautiful architecture.
Trevi Fountain (Fontana di Trevi): A short walk from Rione Monti, this famous fountain is known for its stunning design and the tradition of tossing a coin over your shoulder for good luck.
Piazza di Spagna (Spanish Steps): Located in the nearby Spanish Steps area, this famous square is a hub of shopping and entertainment.
Pantheon: A remarkable ancient temple turned into a church, known for its impressive dome and architecture.
Galleria Doria Pamphilj: A private art collection in a historic palace with works by artists like Caravaggio and Titian.
These attractions and more make Rione Monti a great starting point for exploring the historical and cultural wonders of Rome.
Additional information about The Fifteen Keys Hotel
Address: The Fifteen Keys Hotel – Via Urbana 6/7 – 00184 Roma (Italy)
Phone: +39 06 489 13 446
Email: info@fifteenkeys.com
Website: https://fifteenkeys.com/